Do you long for a future that inspires you?
Discover tools to turn your dreams into action!
Join us with Della Duncan, renegade economist
and host of Upstream Podcast, for a
transformative weekend…
This is a weekend experience that will inspire
and catalyze your next steps in life
It can be difficult to make ends meet, let alone find a job that enlivens us to meaningfully contribute to the ecological, political, and social challenges of our time. Reframing work as part of our 'right livelihood' invites us to see work as a spiritual path and a vehicle for economic systems change.
Right livelihood comes from Buddhist philosophy and it is part of what is called the 'eightfold noble path,' which can be seen as a set of suggestions for ethical living. 'Right livelihood' reframes our work as efforts that contribute to a more life-sustaining and thriving world. It includes work that is paid and unpaid. This includes things like parenting, care work, volunteer work, activism, and art making because even though we are not always paid to do this work, they contribute to healthy communities and a healthy planet.
When we think about our livelihood as our service to the wellbeing of ourselves, each other, and the planet, it opens us up to new dreams and possibilities. Pairing these with alternative livelihood theories, tools, and business models empowers us to actualize them and contribute more substantially to the more equitable, sustainable, and just world we want right now.
Join us for a transformative weekend that aims to align your livelihood with your deeper purpose. Wherever you are on your journey, this course will help you pause to reflect, reconnect with what's important to you, and go forth with tools and insights to help make your dreams come to life. Weaving stories, embodiment practices, games, with wisdom from the New Economy movement.
together we will
Develop connections between our inner and outer journeys for change.

Explore what is wrong with the current economic systems and why they are not delivering wellbeing and health.

Look at the seeds of new possibilities and learn what we need to do to allow them to emerge.

Explore alternative livelihood theories, tools, and business models.

Reflect on our personal Right Livelihood journeys and find out how we can each contribute more effectively to the challenges of our time.
DETAILS
Dates
Friday-Sunday, October 25-27, 2019 (Friday afternoon to Sunday afternoon)
Times
Friday 4pm-9pm
Meals: Dinner

Open to the public conversation: 7:30-9pm
Saturday 9am-4pm
Meals: Breakfast, Lunch, Dinner

Optional dinner and bonfire story-share to follow
Sunday 8am-4pm
-Meals: Breakfast, Lunch
Location
The Eco-Institute Community Barn Loft or Lakeside Gazebo
Meals
Includes all meals (catered, crafted, local, delicious) from Friday dinner to Sunday lunch
Accommodations
Overnight camping available (with showers)- $20 fee covers Friday & Saturday nights
Cost
$250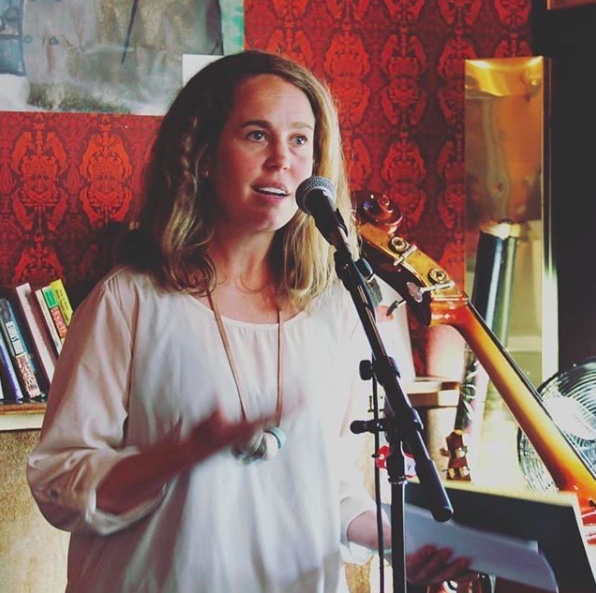 Della Duncan is a facilitator who invites opportunities for personal and systemic transformation for a more equitable, sustainable, and enlivened world. She has had training in traditions and practices including the Work that Reconnects, Theater of the Oppressed, Theory U, improv games, restorative justice, mindfulness, and non-violent communication. She holds an MA in Economics for Transition with Distinction from Schumacher College, a BA in International Relations and Sociology with highest honors from the University of California, Davis, a graduate certificate in Authentic Leadership from Naropa University, and has completed Joanna Macy's Work that Reconnects Intensive Program. She is the host of the Upstream Podcast about alternative economics, an Atlantic Fellow of Social and Economic Equity at the International Inequalities Institute at the London School of Economics, a partner of the Eurasia Learning Institute, a Right Livelihood coach, and an alternative economics consultant.