Nature & Mindfulness Retreat
Nature is a great teacher of mindful awareness, calmness, composure and sensory engagement. It helps awaken us to the miracle of each moment, challenging us each day to be more aware of what we are doing, experiencing and becoming.
If work, social media, stress or other distractions are hijacking your attention, this weekend of nature and mindful awareness will help restore balance in your daily life. Even if you have the tiniest space in your life to go deeper,
during this weekend you will learn to use that space well.
Immerse yourself in nature during this weekend of contemplation, meditation, refuge, and renewal. Learn practices rooted in Zen Buddhist traditions and principles from the Nature Connection movement. Practice techniques for walking, listening, seeing, and breathing that foster greater awareness in each moment. Practice meditation skills that you can use in your daily life. Explore topics in mindfulness beyond any singular religion, philosophy or tradition.
This workshop is for people both experienced with meditation practices from any tradition and those brand new to meditation. Beginning meditators will learn simple techniques to start a new practice. Experienced meditators will discover new inspiration for deepening mindfulness practice while immersed in nature.
Discover how nature connection and mindfulness can enhance your daily life.
Explore:
Sitting and walking meditation

Stories exploring the philosophy of mindfulness

Focusing awareness through the five senses and the mind

Gratitude practices

Bird sits, fox walking, owl eyes and other core routines of Deep Nature Connection
Through this workshop, you can:
Begin a meditation practice or bring new inspiration to your current practice

Introduce vividness into your daily life by learning new ways of listening, walking and seeing

Gain a set of relaxing and centering practices that you can use everyday to help cope with stress

Begin to awaken a deeper inner life

Cultivate new habits - making it easier to get outside, to breathe deeper and be present in each moment
This workshop includes the Friday evening talk: Zen and Nature
DETAILS
Date
April 27-29, 2018
Times
Starts: Friday 7pm
Saturday and Sunday start times: 10am
Ends: Sunday 4pm
Location
Eco-Institute Community Barn and/or Lakeside Gazebo
Cost
$220
Includes Admission to Friday Public Talk
SCHOLARSHIPS AVAILABLE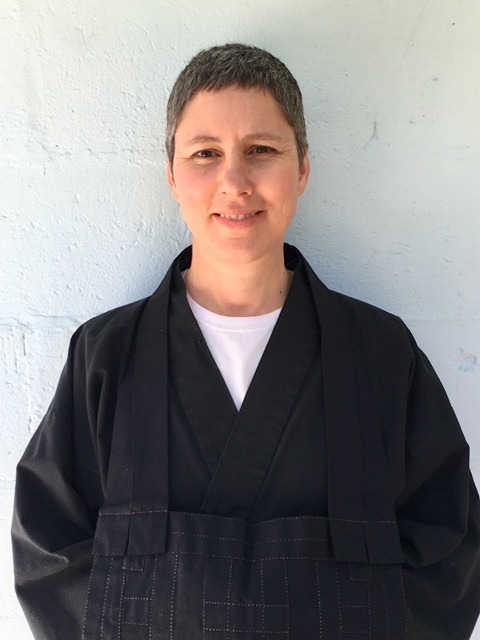 Reverend Zenki Kathleen Batson is a Zen Buddhist priest who practices at the Chapel Hill Zen Center where she is the Ino, or head of the meditation hall, and serves as the Abbess's Assistant. She also gives zazen meditation instruction, instruction in the formal meal form used during meditation retreats, and leads group visits at the center. Zenki has been studying with her teacher Josho Pat Phelan for 17 years. She first tried meditating in sixth grade after reading Shunryu Suzuki's book, Zen Mind, Beginner's Mind and began developing a consistent meditation practice in her early 20's. Zenki is also a Montessori Toddler teacher and has been working with children of a variety of ages for over 20 years. She is currently working towards her North Carolina Environmental Educators Certification. Zenki's strong connection to nature began in the Japanese garden her father created in the backyard of her childhood home. She experiences time spent in nature as a renewing refuge, a guiding element in decision making, and a critical aspect of her spiritual life.