The ELDERHOOD JOURNEY
A SERIES GUIDED BY Carolyn Toben & Mike McLeod
Elderhood Journey Summer Sessions
As elders, what roles are ours to play at this time of our lives within an ever-changing world?
This is the question we will be exploring together in two sessions that will help guide us through new understandings of both our outward journeys and our inward journeys towards Elderhood.
Each day will be interspersed with small group and large group gatherings, journaling, art, movement, and solo time as well as afternoon time spent together with young adults. Throughout the two sessions, participants will be invited to share creative responses relevant to the themes of each day. We will also share a book table for learning resources on themes related to Elderhood.
You may sign up for either one or both sessions.
9am-3pm
We will explore the following questions: What ideas and patterns of living did you receive as you were growing up?
How did those affect your life as you moved through successive stages of your life? Who were your mentors?
In what ways did they guide you? What ideas, patterns, etc. "conditioned" you and how have you grown from the traditions and culture that surrounded you? What rites of passage did you go through on your journey to elderhood?
How did they change your worldview? What were you missing?
In the afternoon, the Elderhood Journey participants will speak from their perspectives to provide thoughtful interaction with the young adults.
9am-3pm
"Within us all there exists a second huge and timeless life" -Rilke
Down below our incessant need to DO, we find in the latter stages of life, a deep need to just BE. The Tasks of elderhood are different than other stages of life; the questions we carry are also different and include reflections about time, relationships, the sacred, befriending death, a longing to relate to nature anew, a yearning to recover what was missing in the earlier stages, i.e., the natural world and the soul, and a process for personal transformations throughout life.
Each session will be limited to 25 participants.
At each session, we will have a morning spent exclusively in the Elderhood program, then we will be joined by a group of young adults for lunch and we will host an intergenerational experience in the afternoon.
We are offering each session at a sliding scale: $50, $75 or $100. You choose what you pay.
Both sessions will be led by Carolyn Toben and Mike McLeod.
Depending on participant feedback, we may offer an extended exploration of the Elderhood Journey during the Fall or Winter months.
Elderhood Journey Fall Session
Fall Dates TBD
Calling Elders, and people of all ages who are interested in the powerful role of elders in community!
As a group we will discover new horizons for how to live more aware in the latter third of life. We are reimagining a special role in our community and we are exploring what the inspiration of elderhood is asking of each of us. We each have some of the answers that we need at this time in the world, and through this collective journey, we will bring them together.
We will explore these questions, and more:
What challenges, and opportunities exist for the last third of life?
How can you use this time of life in as an opportunity to live more deeply?
What are the characteristics of an elder and what is the difference between an elder and an older person?
What wisdom might you harvest at this time of life that you could share with others?
How can people gracefully accept the changes that come with age?
What are the personal and spiritual shifts that are needed to grow towards elderhood?
Are you willing to embark on a new, inward journey?
We invite you to participate in an exploration of conscious aging, engage in a community building process, explore the identity shifts of different ages and stages and discover what it means to become an elder.

The Elderhood Journey Features
Reflective time journaling
Paired walks and one on one time with peers
A chance to share your wisdom and gain support from a group of peers who are collaboratively exploring heartfelt topics in elderhood
Opportunities to develop a special cross-generation connection with inspiring young adults at the Eco-Institute
Reflections that you can take home at the end of each week
Thoughtful and experienced guides

Topics include
Forgiveness and releasing the past
Discovering your life's wisdom
Exploring death and dying
How to balance your time in a meaningful way
Focusing on relationships instead of tasks
Spiritual shifts such as shifting focus from linear time to soul time
IF INTERESTED IN ATTENDING THIS PROGRAM IN THE FALL OR WINTER,
PLEASE SIGN THE INTEREST LIST BELOW
TO BE NOTIFIED OF FALL/WINTER DATES & DETAILS
We respect your privacy. Let us know if you no longer want to be contacted by The Eco-Institute.
All newsletter emails include an unsubscribe link. You may opt-out at any time. See our privacy policy.
Carolyn Toben is an educator, counselor, and creator of new social forms with a spiritual dimension that foster cultural renewal. Her background includes degrees from the University of North Carolina Greensboro (Phi Beta Kappa), extensive postgraduate studies in spirituality, world religions, and depth psychology, and teaching in both secondary and college settings with an emphasis on alternative and interdisciplinary education.

Carolyn led the formation of a School-Within-a School in the Greensboro public school system and was a pioneer in the shaping of teacher renewal education at the North Carolina Center for the Advancement of Teaching in Cullowhee, NC, and the Center for the Advancement of Renewal for Educators, in San Francisco, CA, where she conducted seminars for more than fifteen years.

In 2000, Carolyn founded what is now the Center for Education, Imagination and the Natural World, a work inspired by cultural historian and author, Thomas Berry, which offers children and teachers a new understanding of the human-earth relationship.

For ten years, Carolyn spent many hours with the renowned priest, author, and cultural historian, Thomas Berry, engaged in deep discussions about his foundational thinking on the human-earth-Divine relationship. Her memoir, Recovering A Sense of the Sacred: Conversations with Thomas Berry (ISBN 978-0-9883928-0-9) is based on her personal notes, practices, and reflections from these conversations.

A grandmother of nine, she currently creates programs, retreats, and events for individuals and groups seeking spiritual renewal and reconnection with the natural world on her family-owned land in Whitsett, North Carolina.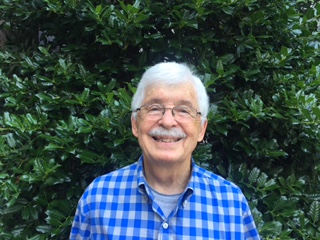 As a facilitator and active Hospice volunteer, Mike McLeod is passionate about convening conversations about conscious aging and end of life issues, having lost his wife and partner of 56 years in January 2017. Since retiring after a 40+ year career practicing medicine and teaching, Mike is committed to educating and empowering patients to proactively navigate the healthcare system. A resident of Durham, Mike has four adult children and five grandchildren.